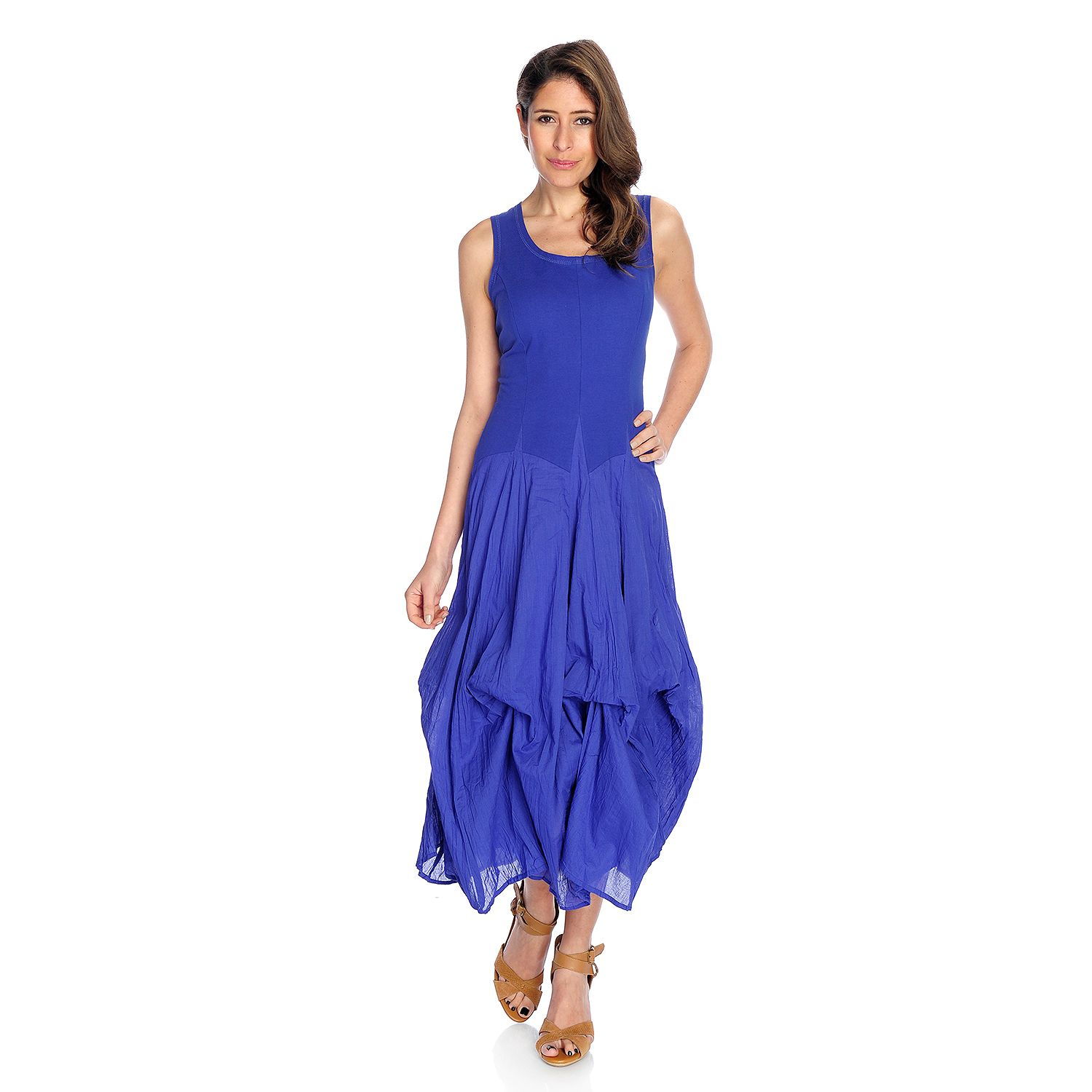 The online shopping networks traditionally selling kitchenware and household items to homemakers have evolved into a source of designer runway fashion at bargain prices.  What is even more remarkable MarkdownMom has found over the years is that many fashion trends are available online ahead of mainstream brick and mortar stores.  For instance, MarkdownMom began buying the high/low hem dresses nearly two years ago from ShopNBC (now SHQP) at great prices.
Recently, MDM saw this dress at ShopHQ reminiscent of Eileen Fisher's Handkerchief Dress w/Ties done in colors (pale pink, dk. navy) at substantially more.  This Casual Convertible Maxi Dress from OSO is offered in 4 colors and although it is made of cotton and not a silky fabric or pure linen, the design element is the same, offering two looks with its' adjustable hem at a feature price of $47.93 (on 2 value pays) making it extremely affordable.  With its' six gore skirt in a light weight cotton, this dress looks great with its' hem up or down and is a very sophisticated fashion statement!
Home shopping networks and so-called big box stores like Target (Mossimo) have recruited top names from the fashion industry to bring their style and uniqueness to midAmerican consumers recognizing the growing number of professional women in the workforce and at home who want style at an affordable price.  HSN, QVC, and SHOPHQ  not only have special lines from designers like Isaac Mizrahi, Bob Mackie, George Simonton, Donna Karan, Betsey Johnson (to name a few), celebrities such as Iman, Joan Rivers (and many others), but have become a venue for new female entrepreneurs such as Lori Goldstein and Joy Mangano, plus their own in-house designers as well.  Thus making online shopping an ongoing source of what's hot, new and undiscovered in the fashion world.  A boon for both the consumer and the designer as well!