A menswear salesman once told MDM that if shopping for clothes was left up to men, most would be naked! Well, MDM doesn't know how true that is nowadays, but if your man likes to shop and has a sense of fashion, then consider yourself blessed–if not, then he should consider himself blessed that he has a significant other to worry about his attire.
Whether shopping for yourself or for someone else, here are a few bargains that you won't want to pass up.
JCrew has this end of season wonderful cotton cashmere corduroy blend sportscoat Reg.$198, on sale for $119.99. The bad news is that there is only one size left 44R in Acorn. A rich subtle look bound to attract the eye of the fashion conscious! Not a 44R? Then check out the other items as part of their Spring Sale event.
Lands' End has this plaid lambswool sports jacket at bargain price of $69.99/reg.$265. Shown is the blue plaid, but MDM also likes it in dark camel for selection–also comes in sage and dark navy. Sizes run 38R-48R and some talls. Free Shipping through Tuesday, May 1st just enter Source Code: FLOWERS and PIN#896367753 in billing info.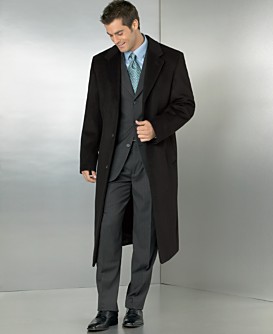 Macy's is having an end of the season sale on outerwear, suits, sportscoats and more. Now is the time to secure great bargains for those cool nights and for next year at a tremendous savings.
Always a classic, this overcoat will never go out of style. Wool/Cashmere single breasted overcoat reg.$400/sale $119 comes in black and charcoal. Selections are limited, but for these bargains well worth the look.
Free shipping on purchase of $100 or more through May 7th, enter promo code: FREESHIP